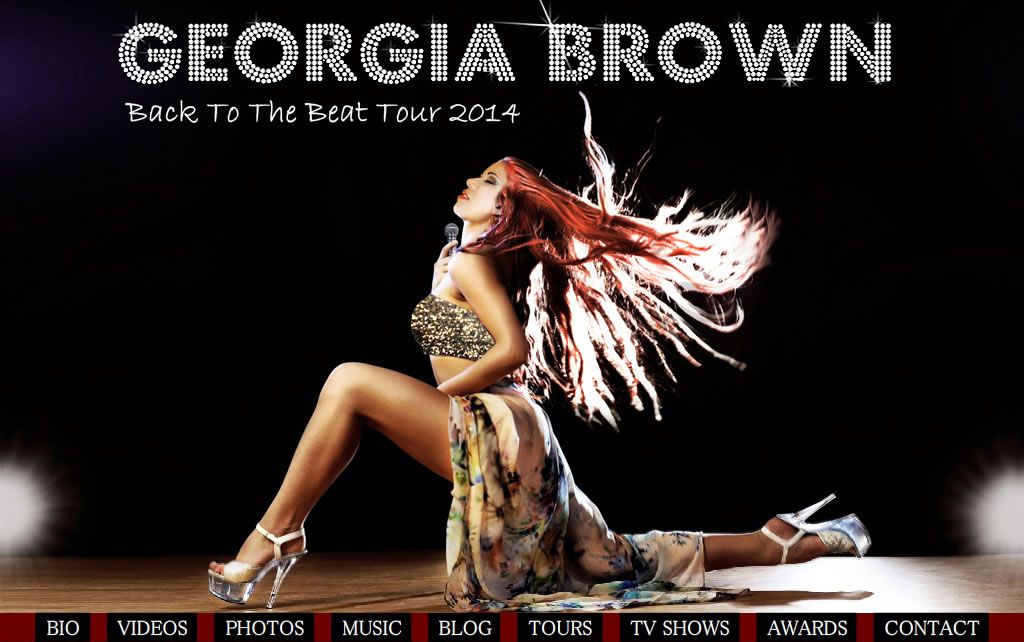 Welcome to Georgia Brown-Mermeid FanClub.com! Looking for something about Georgia Brown? You'll find it all here -- Complete and up-to-date news, Georgia Brown's latest chart statistics and thousands of photos, plus song lyrics, audio and video samples, extensive links around the world, discography, bio, and much more. Enjoy!
Georgia Brown: "The World's Greatest Vocal Range - 8 octaves extending from G2 to G10 and Highest Note G10." Also she is the Super-Voice by Stan Lee of the serie "Super-Humans (history Channel). Then you ask yourself: Why is she on Guinness Book? Here we answer your question: It is not just because she goes higher than any singer and sings better than anyone but, she has the most perfect in-the-tune range, beautiful voice and above all she's the best! Come on ladies and brothers, Give it up for GEORGIA BROWN!

BIOGRAPHY
THE WORLD'S GREATEST VOCAL RANGE
Georgia Brown, Italian/Brazilian, started her artistic activities when she was 7 years old, and became a professional musician when she was ten, being approved in a test of the OMB (Musicians Organization of Brazil).

When she was 15, she toured as backing vocal to Jorge Ben Jor, one of the greatest MPB (Brazilian Popular Music) singers, in his best time: the "W Brasil Tour". Throughout these years, she made part in important contests and festivals as: "Skol Rock" and "Fest Valda", where she won as Hours-Concours, and she was contracted by the French multinational Company "Pastilhas Valda". Beyond this festival, with her talent, Georgia won all the contests she participated in.

Self-control, she dedicated totally to her voice. When she was a girl, she decided her future, choosing the music as her font of life, singing and recording beside the greatest names of the phonographic industry, because the stage is her spot.

When she was 17, she became producer; musician and started to write and arrange her own songs on R&B/Soul Style. She went to Oakland city (CA-USA) and lived there for two years producing songs and studing audio engineering.

Arriving in Brazil, she recorded her first totally authorial album "BLACK NATURE", released on "Programa do Jô" (Globo TV), appearing more than fifty nationally broadcasted TV's, she got a long time on TV shows because she catches the audience of several millions of people. She elevated the audience in TV programs and she was invited to be back because of the great success of her performances. She conquest peop? 1G? ??? ?? ?? 8E? ???Ÿ6? ?? ?? *? le, even being her song considered refined. With her singular voice, her expressive image and charisma, her extravagant style and unique personality that marked the Brazilian TV on 2001, with the success "COMMIT A CRIME", Georgia made the big Hip-Hop/Soul and R&B "BLACK NATURE TOUR" two years (2001/2002), conquering many fans and her debut album in Brazil was certified GOLD, over 120.000 copies sold. This album was praised by critics of the most respected newspapers and magazines from Brazil with big interviews and something rare happened: there was no negative criticism. Out of the traditional music's patterns cames from her country and singing only in English, Georgia expanded her work to foreign countries.

While working on her first album, with the track '81' is the number - Georgia Brown, Cosmonautics & DJ Patife".on the first DJ Patife's album named "Cool Steps" on 2001, she made her her first musical projecs to the clubs. On 2003 rhe start of her international projection was the single "FORGIVEN" – a sensational Drum 'N' Bass, musically rich and praised in unanimous opinion by respected specialists of this style. The song "Forgiven" also was a hit remixed by famous DJ's as DJ Patife, who produced a different remix in R&B style to compose the playlist in his album "Na Estrada", released in 2005. Counting with other DJ's, the song was to the dance and played in clubs and radios around the world, was #1 of the Top 10 on the electronic music charts. A perfect Drum N' Bass partnerships was formed with DJ's, for the launching of the single in England such as: "Deeper" Georgia Brown X XRS and "Red Light" Georgia Brown X DJ Marky & XRS. Georgia Brown licensed songs for famous compilations such as: AMP MTV 2, with the track "I need U" Georgia Brown & Cosmonautics, Jóia 3 Chill Out and Lounge By Luciano Huck, with the track "Lover Street" G. Brown Bossa Nova Mix, and others.

The singer, songwriter, musical director, producer, musician (piano, keyboards, g? 1G?¼??? ??uitar, saxophone, drums) and sound engineer (recording, mixing and materizing), specialized in USA, has spent two years dividing her time between concerts and studios, producing carefully the arrangements, making compositions, playing instruments and mixing her secound album, following the same procedures as she made in "Black Nature". On 2004, she released "HEART BEATS", an original album full of concepts, she is a synonym of innovation and dare and her musical style shows several vocal and instrumental techniques, mixed the accelerated DnB beat with the melody and the harmony of R&B, she has created a new kind of electronic music, D'N'B/Soul, with these elements Georgia Brownwas PLATINUM, over 300.000 copies sold, toured around Europe, USA, and Brazil. On "HEART BEATS WORLD TOUR 2003/2004" in "Live PA" format, Georgia sang her new set list and her others hits with DJ's and remixes such as "Commit a crime", "Lost Love", "Hold on".

On 2004, Georgia Brown breaks the Mariah Carey's vocal records on GUINNESS WORLD RECORDS and received her Certificate due her two records: "World's Greatest vocal range "G2/G10 - 8 octaves" and "World's Highest Note "G10". Her records were published two years later. Georgia also has her records registered on RANK BRASIL RECORDES, singing in 9 different actaves and 8 complete octaves proved in a measurement done by a profesional musicians team, who said: – "Georgia is a phenomenon. Her vocal cords goes beyond the human nature, and animal voice limits, and her notes are higher than any highest note produced by any natural or electronic musical instrument. They only can be measured by a "measurer frequencies".

On 2005, Georgia Brown, expert in vocal techniques, also released the first volume of her Video Class in DVD, with singing techniques: "A Maior Voz do Mundo – A revolução do canto vol.1", over 20.000 copies sold.

Since the records were published on Guinness Book (2006 edition - page 172) due her incredible vocal range, Ge? 1G?¼??? ??orgia Brown began to be invited to interviews and to perform on TV Shows from Japan, Korea, Brazil and European countries.

Two years recording at studio, when finally on 2008 Georgia Brown releases "THE RENASCENCE OF SOUL". Her third album posses the more pure sonority with perfect frequencies and tranquilly can be equaled to the most well recorded and produced albums concerning quality, high technology, beyond the american singers and top musicians from Brazil invited to join the team like: Arthur Maia, Claudio Rosa, Marcelo Mariano, Bororó, Hulk, João Castilho, Fernando Vidal, Edson Jr, José Antônio, Nelson Jr, Ricardo Leão, Lincoln Lyra, Serginho Trombone, Marcio Montarrojos, Alex Guedes, Pollyanna Penna, Carl Gardner Jr. and Giovani Bruno. Classified as an International Black Music, the specific gender of this CD is R&B/Soul, released in Physical album and Digital Album.

On 2009, the DJ/Producers remixed Georgia Brown's songs, she became Diva of the Tribal House scene. All the potency of her voice, in synchrony with the pick-ups of the Top House Music DJ's resulted in another project of electronic music. The original track "LONELINESS" featured on the album "The Renascence of Soul", after remixed by Allan Natal, was #1 of the Top 10 during three months on the most renowned eletronic music's radio station of Mexico, BEAT 100.9 FM. The song also was hit in Brazil where Georgia Brown performed in clubs, big parties and top events. Several people have watched her "TO DA FLOOR TOUR". Georgia's presence causes impact and in her concerts, she sings songs of the world's greatest divas, exclusively to compose this impressing performance in HOUSE REMIXES, produced by the world's top producers.

Searching for a harder kind of sound and looking for a House Tribal producer able to arrange a new type of production, HytraxX was choosen. On 2010, Georgia Brown presents "LOVE 4 REAL". When the original track was out, the Tribal House scene changed. Released by t? 1G?¼??????he mexican label Bearlin Records bringing ten tracks on each one of the two editions. The single was #1 for one month and a best seller on Masterbeat's Top 10. In the clubs, "Love 4 Real" also became an anthem and all the people sing along!

"The black voice in white woman with her cute red hair" surprises in each work. "The Singer of Guinness" – the way she is recognized because of the highest and low notes that can shiver any place and again appears on Guinness Book 2010 edition (Cover on feft)..On this tour, her songs are clearer than ever, surely she's a phenomenon that not only is good because of the greatest vocal range, but to be a REAL SINGER.



CD'S


BLACK NATURE (2001)
HEART BEATS (2004)
THE RENASCENCE OF SOUL (2008)
SINGLES
HOLD ON (1997)
COMMIT A CRIME (1998)
MAKE IT RIGHT (1999)
IT'S A PLEASURE (2000)
D-SIRE (2001)
LOST LOVE (2002)
FORGIVEN (2003)
NOBODY'S SUPPOSED TO BE HERE (2004)
ALWAYS (2005)
MERMAID (2006)
I'M DANGEROUS (2007)
ART A SHIELD FOR ME (2008)
SAVE MY SOUL (2008)
LONELINESS (2009)
LOVE 4 REAL (2010)
COMPILATIONS & PARTNERSHIPS
Carrossel-
Banda Black Rio (Keys arranged by Georgia Brown) Movimento (Universal Music 2001) Brazil
Nova Guanabara-
Banda Black Rio (Keys arraged by Georgia Brown) Movimento (Universal Music 2001) Brazil
81 is the number-
Georgia Brown X DJ Patife and Cosmonautics DJ Patife Cool Steps and Drum 'n' Bass Grooves Trama 2002) Brazil
I need u-
Georgia Brown X Cosmonautics AMP MTV 2 (Sony Music 2003) Brazil
Your Love-
by DJ Phantasy (G.Brown Voice's Remix 2003) UK
Whatever's clever-
by DJ Aphrodite (G. Brown Voice's Remix 2003) UK
Lover Street-
Georgia Brown Jóia 3 Chill Out and Lounge by Luciano Huck (Universal 2003) Brazil
Deeper-
Georgia Brown X DJ Marky & XRS (Innerground Records 2004) UK
Red Light-
Georgia Brown X XRS (Innerground Records 2004) UK
Forgiven-
Georgia Brown DJ Patife's Remix DJ Patife Na Estrada- (Trama 2006) Brazil

03/02/2011
Paulo Soza - The Georgia Brown's Official Bass Player
Paulo Soza, 25 years old
The Official Georgia Brown's Bass Player for the